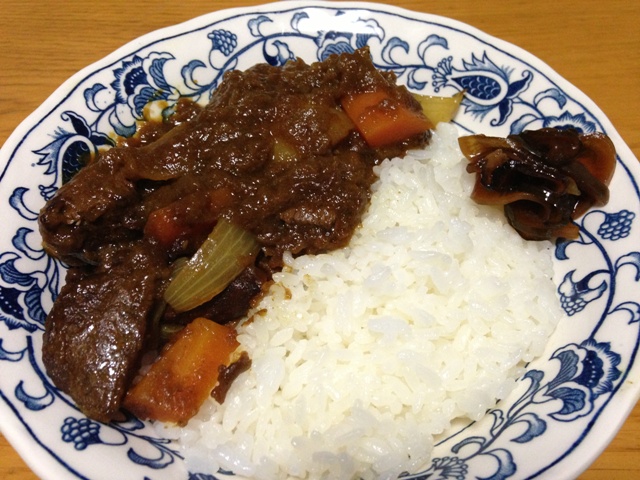 Curry rice is one of the most popular Yoshoku foods.  It may be the king of Yoshoku among kids.  It is a very simple dish which pour curry sauce with cooked meat and vegetables on top of steamed rice.
I think almost home have cooked it at home at least once.  There are many type of curry sauce in the market, and also we can buy package which is already cooked and warm it with microwave or hot water.  Also there are many curry shop where served only curry rice.
Ingredients:
about 150g Beef
about 100g Potato
about 50g Onion
about 40g Carrot
Curry sauce
Water
Sea salt
Pepper
How to make:
1) Cut beef, potato, onion and carrot as bite size.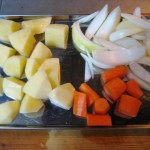 2) Pour cooking oil in a pan and heat.  Add the beef and bake it with put some sea salt and pepper.  Then add onion and stir them.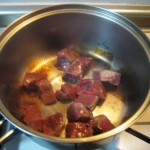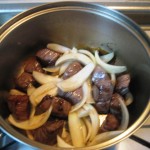 3) Add water (amount is instructed by the curry sauce package) and carrot for a while.  If lye comes, remove it.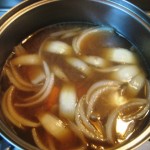 4) Add curry sauce and potato.  Heat it until potato becomes soft.

I usually make it with following the instruction which described in the package of curry sauce.  It depends on the package, so I cannot say correct way for all situation.
If finished, place steamed rice in a dish and pour curry sauce.
You can find dark brown stuff at right side of the dish in the above photo.  It is a kind of Japanese pickles called "Fukujin Tsuke."  It is often served with curry rice.  If you have been to curry shop in Japan, you may find it each tables.
As you know, curry is originated in India.  But Japan got know about it through UK.  It was in Meiji era (1868 – 1912).
In Japan, curry usually means "curry rice."  Eating it with rice is typical Yoshoku style such as Hayashi Rice and  Omelet Rice etc.
I made "Beef Curry" at this time, but there many types such as Pork Curry, Chicken Curry, Seafood Curry, Vegetable Curry, Katsu Curry which serving Tonkatsu with curry sauce etc.  At Japanese curry shop, these are served as curry rice.
Also you can find "Curry Udon" and "Curry Soba" at Udon or Soba shops.  As you imagined, they are food pouring curry sauce on top of Udon or Soba.
Of course, there are Indian or Pakistan restaurants in Japan and we can enjoy their original curry with nan.  And Thai's green curry is also available.
I have seen Japanese curry sauce packages on US web shopping sites.  If you can find one of them, you can make Japanese curry rice easily.  Please try!
Enjoy meal!