Kelp Marinated Sashimi (Kobu Shime)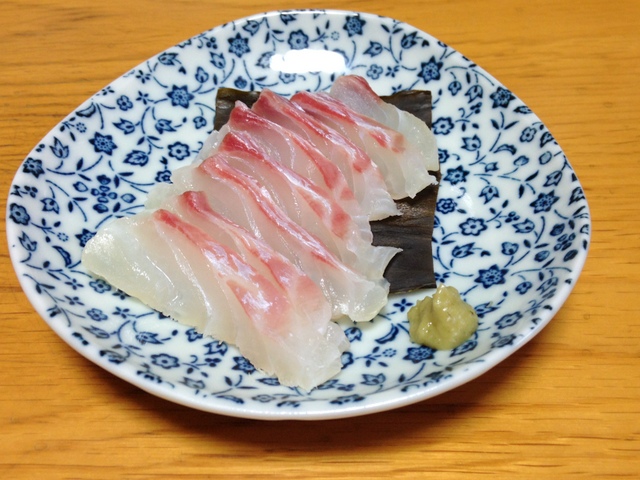 However Sashimi is well known as raw fish, there are some some additional methods.  In this site, I have introduced some of them such as Shime Saba and Tataki.  Kobu Shime / Kelp Marinated is also one of them.  If you go to Sushi restaurant, you may get it.  Also you sometimes can find it at fish stores in Japan.  But it is not very difficult menu which only pros can make it.  That means you can make at your home.
This dish is to enjoy sashimi and the fragrance of kelp together.  So white meat fish is better because they are usually light taste.  I think Sea Bream (Tai) Sashimi is most popular for Kobu Shime.  I also used it at this time.  But other fishes such as Flounder (Hirame) are also used.
Ingredients (for 2 or 3 dishes) :
about 150g Sea Bream Sashimi (fillet form)
Kelp
Rice Vinegar
Salt
How to make:
1) Sprinkle normal amount of salt on Sea Bream and leave it for about 30 min. in fridge.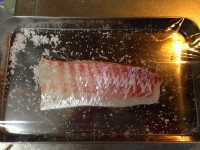 2) Clean the Kelp with cooking paper which includes some rice vinegar.  It is to make the kelp soft because dried kelp is hard.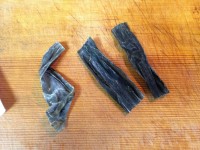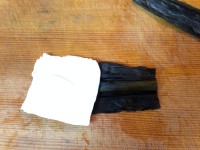 3) Wash the Sea Bream quietly in rice vinegar to remove salt.  Then remove the moisture with cooking paper.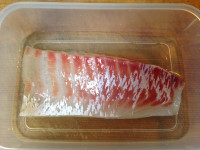 4) Place the Kelp and overlay the Sea Bream.  Then place the Kelp on top of the Sea Bream.  It is like making sandwich.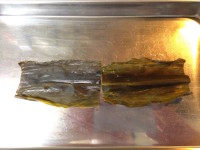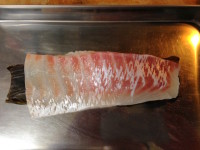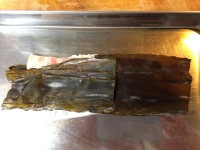 5) Warp the whole Kelp and Sea Bream.  Place a dish on top.  Then leave it for about 2 hours in fridge.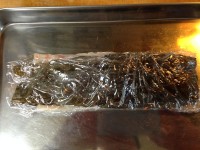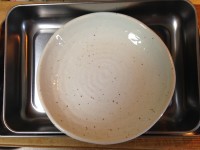 6) Cut the Kelp as an appropriate size and place in the dish.  Slice the Sea Bream about 1cm width as Sashimi pieces.  Place them on the Kelp and add some Wasabi.
Normally, we are eating Sashimi with soy sauce.  But please eat it without any soy sauce first.  You will be able to enjoy "Umami" of both Sea Bream and Kelp well.  Kobu Shime with a little Wasabi is also good.  If you want some soy sauce, it's no problem, please add it.
You will feel it a little dry compare with normal sashimi.  During step 5 above, moisture which is inside of fish moved to kelp and Umami of kelp (Gultamin Acid) moved to inside of fish.  If you make the time of step 5 above longer, fish will be more dry and the fragrance of kelp will be strong.  How long you will keep it is up to you.  I recommend about 2 hours.
In Japan, fillet form fish is called "Saku."  You can find it at fish stores or supermarkets.  Of course, we can buy Sashimi form which is already sliced.  We can buy Saku form with a little reasonable price and we need it to make Kobu Shime.
This cooking method is not difficult, but need longer time, isn't it?
This is the one of menu which I would like you to try if you can get sashimi grade fish like Sea Bream or Flounder and you have enough time.
Enjoy meal!