Chicken Tenderloin with Mustard Soy Sauce (Sasami no Karashiae)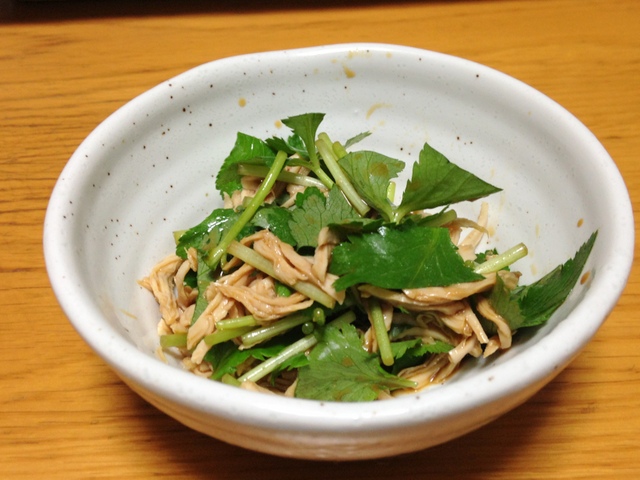 I noticed that I posted many fish or sea food foods and less meat foods recently.  Today, I would like to introduce a dish using Chicken.  This menu "Chicken Tenderloin and Mustard Soy Sauce (Sasami no Karashiae) is not traditional food, but my mother cooked well and I like it very much.
If you can't have tenderloin part, please use chicken breast without skin.  They are closed part and perhaps it will be similar result.
Ingredients (for 2):
80g Chicken Tenderloin
Japanese Honeywort (Mitsuba)
Soy Sauce
Mustard
How to make:
1) Cut Chicken Tenderloin about 4 to 5 cm long.  Boil the chicken in water for about 10 to 15 min.  (until chicken is boiled).  When it's boiled, pick out and leave for a while.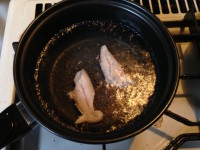 2) Cut Mitsuba about 3cm long.  Mix Soy Sauce and Mustard well.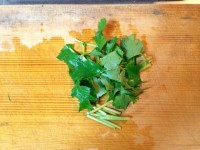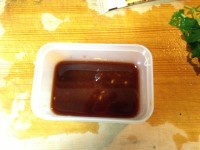 3) Tear off chicken meat with fingers.
4) Mix every thing in a bowl.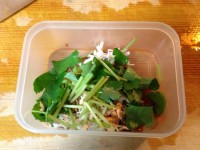 Before serving, it would be better to make it cold in the fridge.  It will be a good and healthy side dish for hot summer.
Mitsuba may not be available out of Japan.  If so around your area, I think using Watercress will be good instead.
I don't care about the the amount of Soy Sauce or Mustard.  It is usually appropriate.  Also Japanese Mustard (Karashi) is more spicy than French style mustard.  If spicy mustard like Japanese Karashi is not available, Wasabi (Japanese Horseradish) will be substitute.  Please make the sauce as you like.
By the way, the name of Sasami is very different from other meats such as pork or beef.  We call tenderloin of pork or beef is as "Hire" or "Fillet".  But only in case of chicken, it is called "Sasami".  "Sasa" means bamboo leaves and "mi" means meat.  The shape of chicken tenderloin similar to Sasa therefore it is named so.
As you know, tenderloin has less fat.  And this menu is not using any oil.  So it is really healthy.
Enjoy meal!