Yellowtail Teriyaki (Buri no Teriyaki)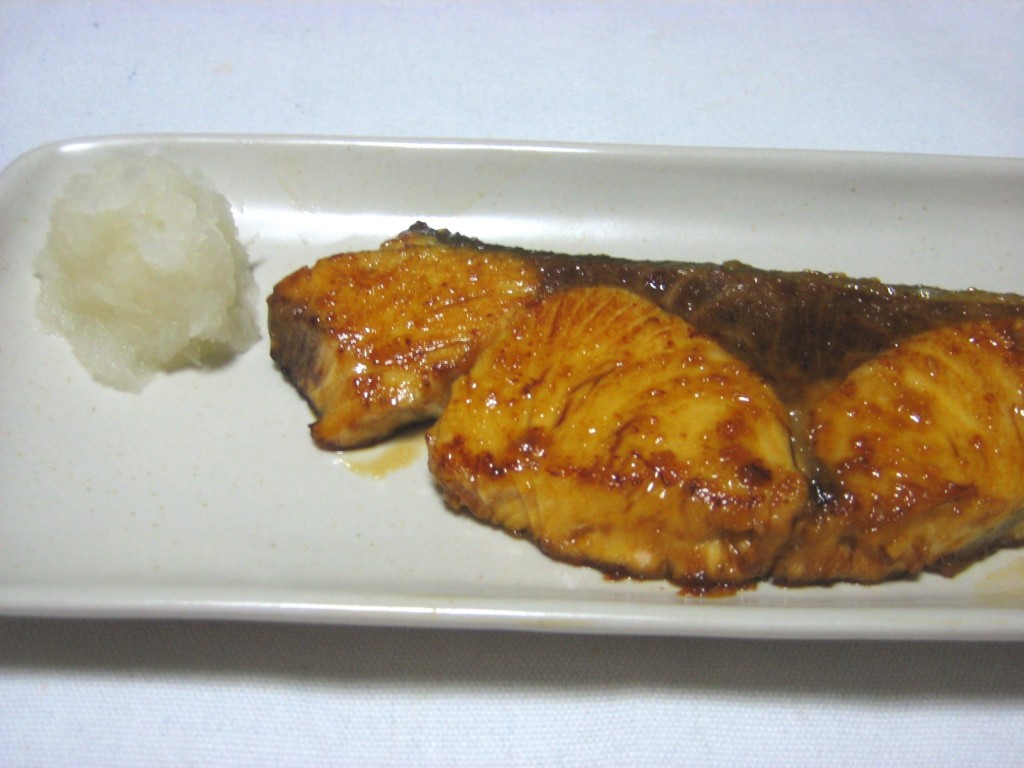 I have noticed that I wrote about meat recently.  So I would like to write about fish today.  Today's article is about Yellowtail Teriyaki.
When we grill Yellowtail, Shioyaki or Teriyaki is popular.  I don't know other method.  We usually use fish grill, but I used a regular fry pan at this time because it is easy.  The method is similar to Chicken Teriyaki which I cooked before.  Big difference is preparation.  For Yellowtail Teriyaki, it would be better to add some taste before grill.  Yellowtail has smell, this preparation will be able to erase that smell.
Ingredients:
1 piece of Yellowtail (about 1 or 1.5cm thickness)
Sea salt
Flour
Sauce for preparation

1 tablespoon Sake (15ml)
1 tablespoon Soy sauce (15ml)
2 or 3g grater ginger

Sauce for Teriyaki

1 tablespoon Sake (15ml)
1 tablespoon Soy sauce (15ml)
1 tablespoon Mirin (15ml)
1 teaspoon Sugar
How to make:
1) Sprinkle some sea salt on both side of yellowtail.  And leave it for about 10min.  Wipe moisture with paper towel.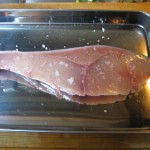 2) Combine sake, soy sauce and ginger (sauce for preparation) well and then place it in the sauce for about 10min.  Flip it over several times.  Then make thin coating on yellowtail by flour.  The fish meat will be broken easily during grill.  Flour coating will avoid it.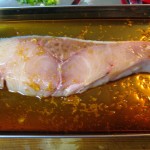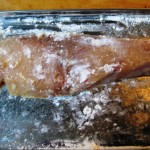 3) Pour cooking oil on a fry pan and heat on middle heat.  Grill yellowtail about 2 or 3 min, then flip over and keep it about 2 or 3 min.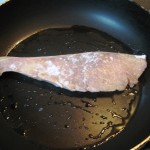 4) Wipe oil in a fry pan, then pour Teriyaki sauce.  Grill the fish on small heat until sauce will be less.  Pour Teriyaki sauce on the fish several times.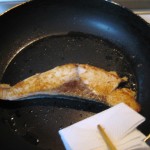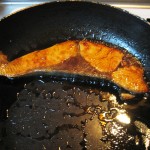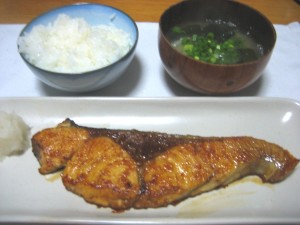 I added grater Japanese white radish (daikon).  If you eat yellowtail with grater radish, it is very good.  Sometimes, Teriyaki sauce is too tasty.  Grater radish will be a kind of a shock absorber and makes it better taste.
I like Teriyaki Fish of not only yellowtail, but also salmon.  I think cod will be good for Teriyaki.  I think many Japanese foods are cooked with consideration about combination with rice and soup (however miso soup is well known, another soup "Osumashi (or Sumashi jiru)" is also popular in Japan.  If you have a chance to eat Teriyaki foods, I would like you to have rice, too.
By the way, "Buri (Yellowtail)" is a kind of "Shusse Uo."  "Shusse" means promotion in business career.  "Uo" means fish.
The name of the fish is changed according to its size.  The biggest one is called as "Buri."  Second biggest one is "Mejiro" and third one is "Hamachi."  These names are different depends on region.  But the biggest one is "Buri" in any region.
If you have been to Sushi restaurant, you may eat "Buri" and "Hamachi."  It is originally same fish.
Enjoy meal!