Baked Eggplant (Yaki Nasu)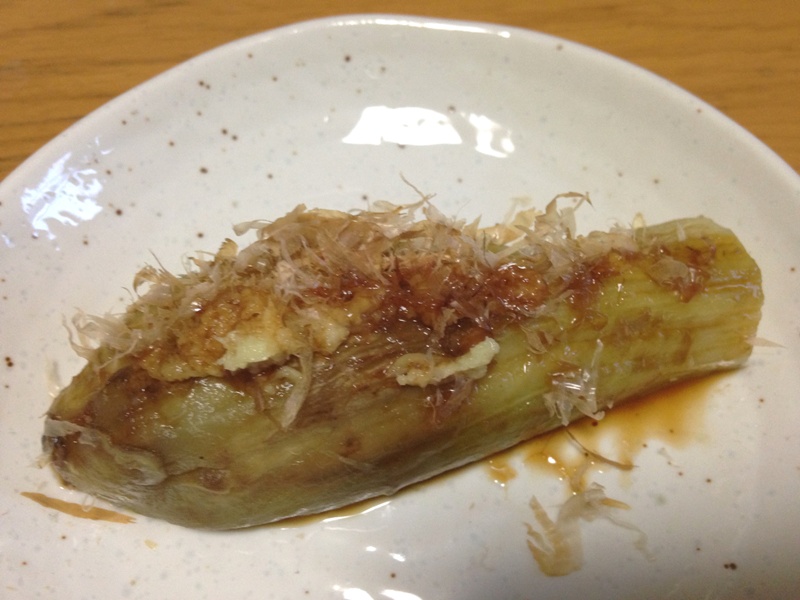 Eggplant is a seasonal vegetable in summer time.  However there are some eggplant recipes, I think this is the easiest and most healthy.  It is baked, but not using any oil.  And when eating it, we usually put some grater ginger, dried bonito flake (Katsuo Bushi) and soy sauce.
Ingredients:
Eggplant
Ginger
Dried Bonito Flake
How to make:
1) Cut the edge of the Eggplant.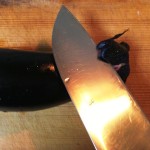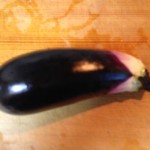 2) Heat a fry pan on strong or middle high heat.  Then place the Eggplant and heat it all side with rotating sometimes.  No necessary any oil.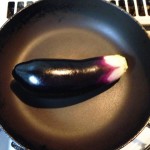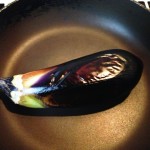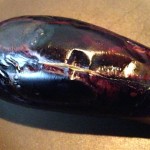 3) When the skin of Eggplant becomes black and is broken, place it in cold water.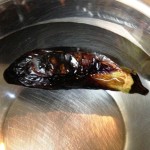 4) Peel the skin.  If using bamboo skew, it is very useful.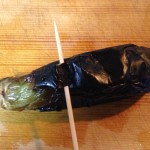 It is very easy and the taste is light.  Also very healthy because of no oil.
Eggplant is grown since more than 1000 years ago in Japan.
Today, we usually call it as "Nasu,"  but it is called as "Nasubi," too.  It came from China and it seems to be called as Nasubi at that time.
There is a proverb, "Ichi Fuji, Ni Taka, San Nasubi."
It means it is good luck if you dreamed Mt. Fuji, hawk, or eggplant as the first dream of the year.  It is dreamed at January 1st to 3rd.
Words of the proverb, "Ichi" "Ni" San" mean the order.  Ichi means one, Ni means two and San means three.  So if you dream Mt. Fuji, it is the best.  Hawk is second and Eggplant is third.
This proverb is old and seems to be told since Edo era (1603 -1868).
It has long history and told in a proverb, so it can be said as very familiar food for Japanese.
Enjoy meal!