Simmered Sardine with Umeboshi (Iwashi no Umeboshi Ni)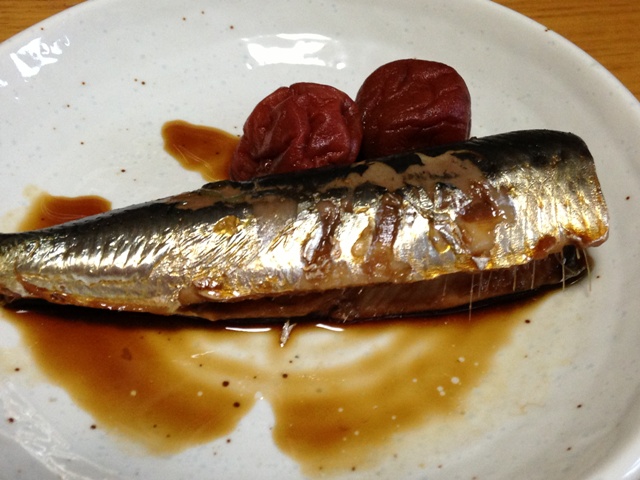 What is the most hard to eat Japanese food for you?
Many foreigners may answer Natto or Umeboshi.  I agree those answer because these two foods have very unique features.  As you might knwo, Natto is fermented soy beans and has strong smell, Umeboshi is pickled plum and  tastes very sour.
Today, I would like to introduce a food which is simmered Sardine with Umeboshi.  Umeboshi has citric acid, so it is good for hot summer days to recover my tired body.
Ingredients:
Sardine (about 20cm long)
2 Umeboshi
1 table spoon Cooking Sake (15ml)
50ml Soy Sauce
1.5 tea spoon Sugar
25ml Water
How to make:
1) Remove head and internal organs of Sardine and wash it with water.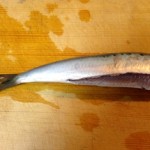 2) Mix Cooking Sake, Soy Sauce, Sugar and Water in a pan and heat it.
3) When it boiled, put Sardine and Umeboshi in a pan and place the lid.  Heat it as strong heat for about 10 min.  Flip over on the half.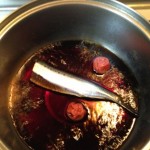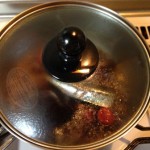 4) Stop heat and leave it for a while to make cool.
It's very easy to cook, isn't it?
Umeboshi is not too much sour because it was simmered with sauce.  Also it erased some smell of Sardine.
It was very hot and humid days in Japan this summer time.  I wanted to eat something cold and easy to eat for such a days, but I was trying to take care to avoid heat fatigue.  So I sometimes eat Umeboshi or something which is cooked with rice vinegar because those foods has citric acid.
Thanks for these foods, I have been healthy so far.
These days, it is getting cooler, I am feeling fall is getting closer day by day.  In Japan, fall is a season of "appetite".  Many harvest will be in the market.  Such as fresh rice and vegetables…  It's a very good season to enjoy cooking and eating.
I will keep writing seasonal Japanese foods.  I will be very happy if you enjoy them and try to cook.
Enjoy meal!