Three Colors Rice Bowl (Sanshoku Don)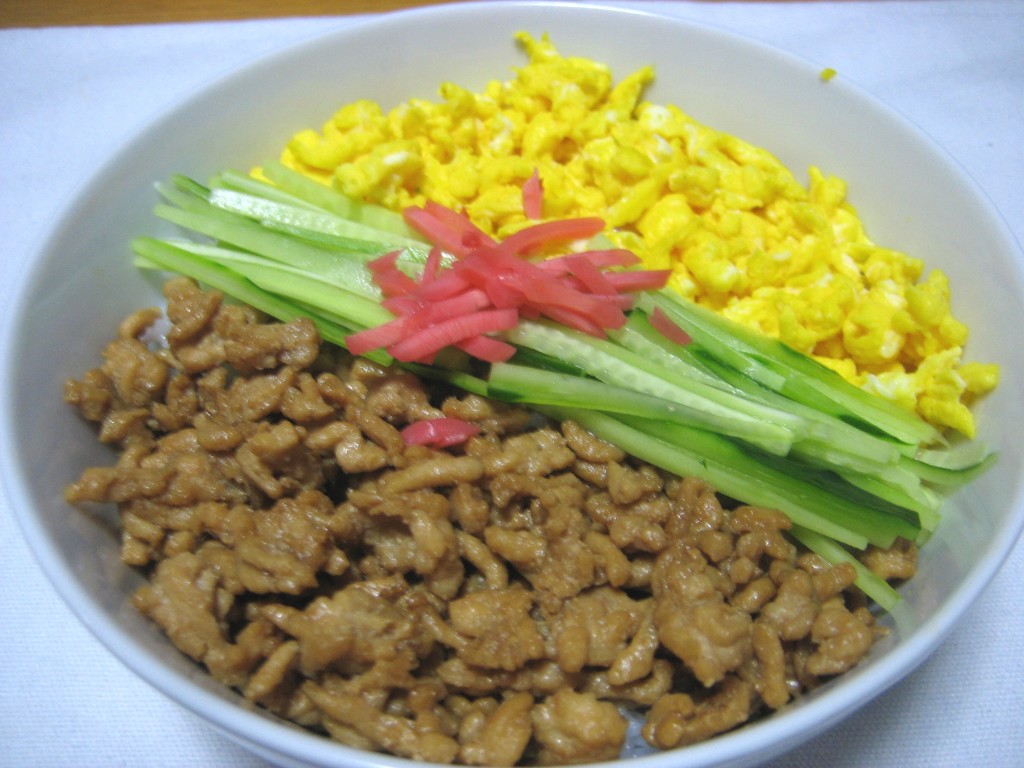 "Sanshoku Don" is also called as "Tori Soboro Don."   "Tori" means "Chicken"and "Soboro" is a food which is cooked as small granular like above photo.  This food is using Soboro of chicken and egg.
"Sanshoku" means "Three Colors."  This rice bowl (don) has brown, green and yellow.  So it is called so.
It is a kind of don (rice bowl) foods, but I think restaurants serving it are not many.  It could be said "home made don food."
Ingredients (for 1 bowl):
For Chicken Soboro

80g Minced Chicken
1 to 2 tea spoon soy sauce (5 to 10ml)
1 table spoon sugar (15ml)
1/2 table spoon mirin (7.5ml)
1/2 table spoon sake (7.5ml)

For Egg Soboro

1 egg
1/2 table spoon sugar (7.5ml)
1/2 table spoon mirin (7.5ml)
1/2 table spoon water (7.5ml)
soy sauce a little (about 1/4 tea spoon)

200g rice (steamed)
Cucumber
Japanese Pickled Ginger (optional)
How to make:
1) Combine all ingredients for chicken soboro in a pan.  Then stir fry it quickly on middle heat until the sauce remained a little.  It would be easier to use 3 or 4 chop sticks.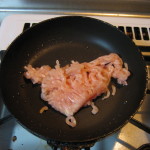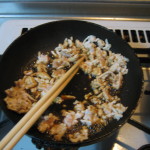 2) Combine all ingredients for egg soboro well.  Then stir fry it quickly agai on small heat.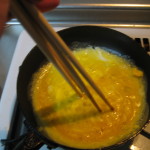 3) Serve rice in a bowl and place chicken, egg and cucumber on top of the rice.
Because chicken and egg are added taste well, it is delicious even it becomes cold.  So this food is also served as lunch box.
I am not sure when this food was developed.  As I mentioned this is "home made don food", each family has their original tastes and styles.  I used cucumber for green at this time because it is my family's style.  Others seems to use vegetables like string bean, kidney bean or spinach, and tastes should be different.
Please try to cook it and find your favorite taste and style.
Enjoy meal!