A Japanese Pickles for Curry Rice (Fukujin Zuke)
Do you remember a stuff served with Curry Rice?
It is a kind of Japanese pickles and is called "Fukujin Zuke."  If you have been to Curry shop in Japan, you may have found it on the table.  You may see it as red.  It is colored with a chemical seasoning.  Recently brown one like above photo is major.
Many of Japanese pickles are fermented, but Fukujin Zuke is not fermented.  Because it tastes salty-sweet, it makes good harmony with spicy curry sauce.
Ingredients:
100g Eggplan
100g Cucumber
15g Shiitake Mushroom
100g Japanese Radish (Daikon)
Salt Water ( about 5% concentration)
For Sauce

100ml Soy Sauce
50ml Cooking Sake
2 tea spoon Rice Vinegar (10ml)
2 tea spoon Sugar (10ml)
How to Make:
1) Slice Vegetables about 2 to 3 mm width. Each sizes will be a bite size. Then put it in the Salt Water and leave it for about 30min.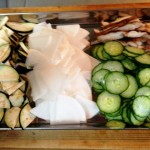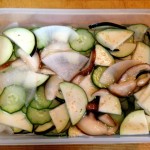 2) Squeeze moisture from vegetables.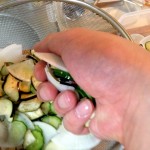 3) Mix all ingredients for the sauce in a pan and heat it boil.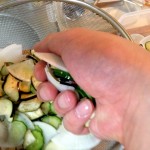 4) Put all vegetables in a pan and boil down until the sauce will be less.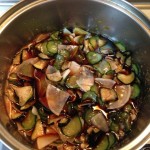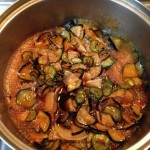 5) Stop heat and make it cool.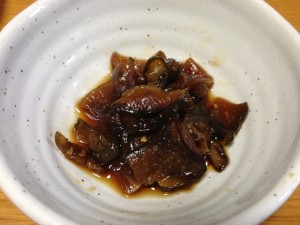 Fukujin Zuke can be served not only for curry rice, but also for regular steamed rice or a kind of snack for beer.
At this time, I made it with vegetables in my home.  But you can add carrot, lotus root, ginger etc.
By the way, the name of Fukujin Zuke is very interesting name.
"Fuku" means luck and "Jin" means the god.
There seem to be several story why it is named as Fukujin Zuke.
One story is saying that it is named after Shichi Fuku Jin.  Shichi Fuku Jin is seven gods in a Japanese myth.  The shop which developed this food first was located near the temple where worship a goddess who is a member of Shichi Fuku Jin.  And the Original Fukujin Zuke were using 7 different vegetables.  A novelist who liked this food named it as Fukujin Zuke because of this background.
It was at the beginning of Meiji Era (1868 – 1912).
Around 1902 to 1903, it seemed to be served with curry rice in the cruise ship between Japan and Europe.  Then this style was established.
We usually buy it at store.  But if you have a lot of vegetables, I think it is good to make by yourself.  Because it is very easy to make.
Enjoy meal!