Boiled pork with black tea (Buta no kouchani)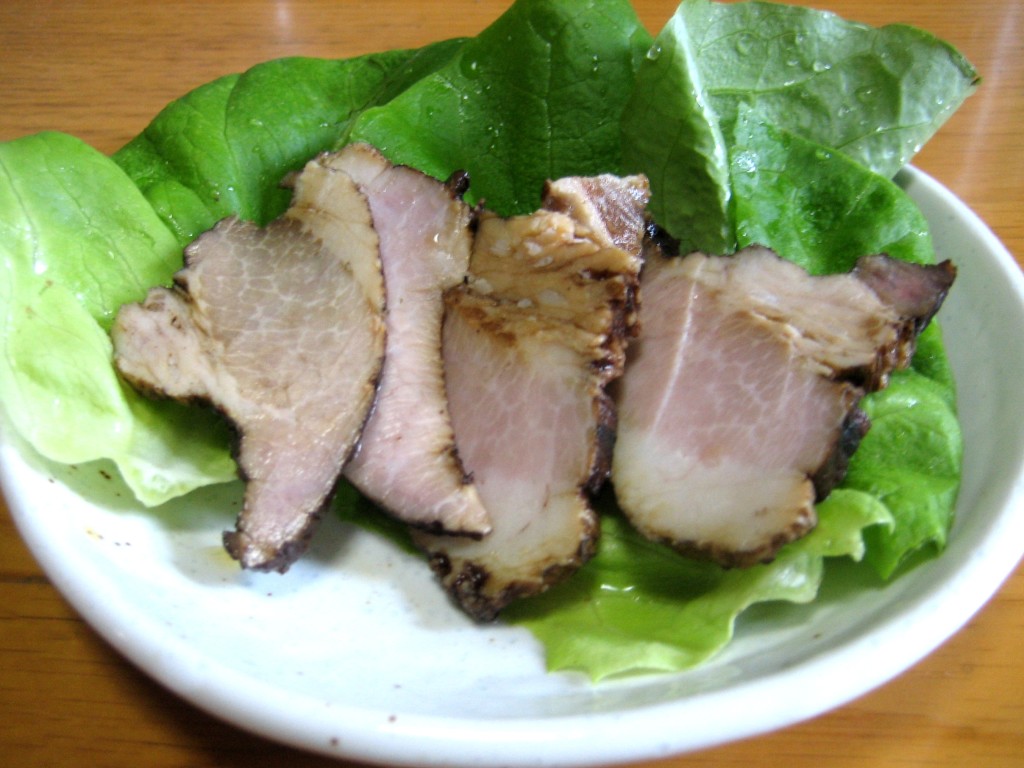 I don't know who developed this recipe.  So it may not be a Japanese food.  But when I was a child, my mother sometimes cooked.  Recently, I found same recipes on a Japanese recipe site.  So it seems to be one of popular foods in Japan.
I have heard the reason why boiling with black tea is to make meat tender and less fat, but I don't know about the real reason.  Whatever the reason, I think the meat becomes tender.  Also we can find similar recipes which are boiling pork with Chinese oolong tea, Japanese green tea or coke.  It is said that those methods aim to same result.
Ingredients:
Pork (any part.  At this time, I used spare ribs)
Water
2 or 3 bags of Black tea
100ml Soy sauce
50ml Rice vinegar
50ml Mirin (Sweet cooking rice wine)
2 or 3 tea cups of sugar
Direction:
1)Boil the water in a pot.  Once it boiled, put pork and tea bags of black tea in the pot.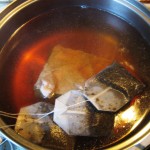 2) Keep boiling on low heat for 45min. to 60min.  If water is getting less, add water.  Time to boil depends on size of meat.  At this time meat is about 200g.
3) To make sauce, mix soy sauce, rice vinegar, mirin and sugar in a different pot and boil.
4) Put cooked pork in the sauce and place it for a while.
We can enjoy this pork as it is like picture on top of this page.  Also we can use it for various foods.
As a topping of ramen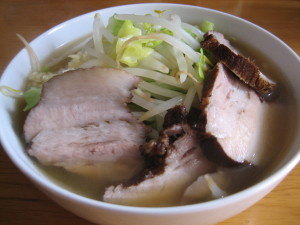 As a ingredient for fried rice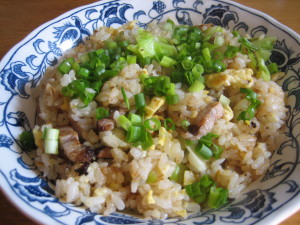 As a topping of ramen, it is called as "Char Siu."  It is originally Chinese and means "roast pork."  But we can see many "boiled pork" styles at ramen stores in Japan.  In this case, most of them are not boiled with black tea.  I think boiled pork style char ciu is Japanese style.
Enjoy meal!