"Soumen" – A Japanese Noodles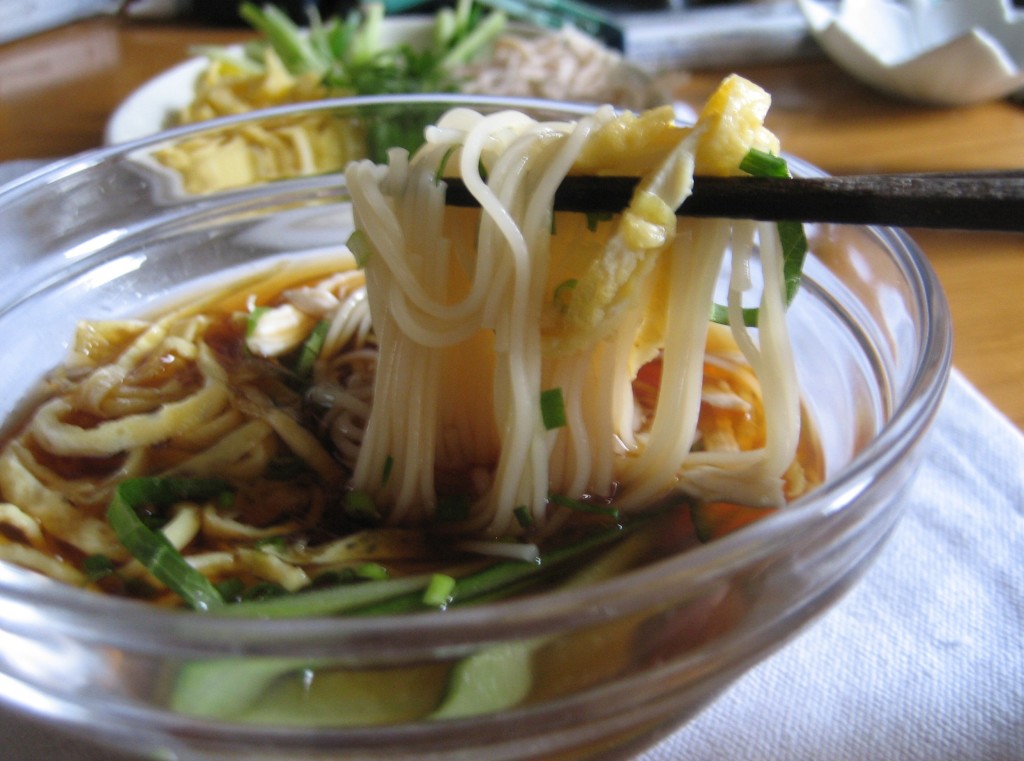 Today, it's June 2nd.  It's very good weather, fine, temperature is about 20 degree(c) and dry.  Last week, Tokyo entered in "Tsuyu (rainy)" season which has a lot of rain and humidity is very high.  It is about 10 days earlier than usual.  Tsuyu season will continue about 1 month.  So Japan has 5 seasons in a year.
During this season, some days will be fine and today is it.  It is called as "Tsuyu no harema" which means the fine day during rainy season.
At a fine day, I want to eat something fresh.  Soumen noodle is one of candidates.
How many kinds of Japanese noodles do you know?
Perhaps, many people already know Soba, Udon or Ramen.  Soumen is a popular Japanese noodles, too.   We have other noodles such as "Kishimen", "Houtou" or "Hiyamugi" etc…  Except soba, those noodles are made of flour.  Differences are method to make, shape or size, and some are very local foods.
Ingredients (for 2 dishes):
200g Soumen noodles
100g Chicken breast (Sasami)
Cucumber
2 Egg
2 tea spoon Potato starch (10ml)
2 table spoon water (30ml)
1 piece of Beefsteak plant (Shiso)
10g Ginger
Green onion
For soup
How to make:
1) Boil chicken breast well, and then divide into small parts.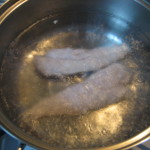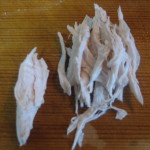 2) Cut cucumber and Shiso, green onion.  Grater ginger.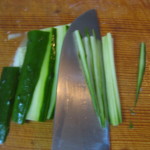 3) Making thin egg sheet.  Mix egg, water and potato starch.  Pour cooking oil in a fry pan and heat it.  Pour egg in the fry pan and heat on low heat.  This is as same as making Hiyashi Chuka.
4) Boil soumen noodles about 1 min.  Then it make cool with cold water in a sieve.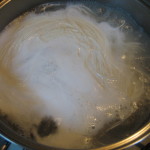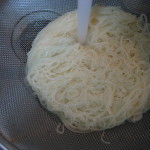 5) Mix mentsuyu and water for the soup.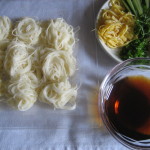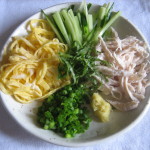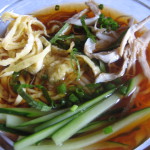 When eating, all foods which you want to eat dipped in soup like above photo.
Soumen noodle is made of flour, sea salt and water.  It is as same as Udon and Hiyamugi.  According to regulation, soumen should be less than 1.3mm width.  Hiyamugi is 1.3mm to 1.7mm.  Udon is more than 1.7mm.  So soumen is very thin noodles.  (I don't know any noodles less than it.)
Setouchi area where is west part of Japan is well known as producing area of soumen.  But soumen is produced in many of other areas.
At this time, I eat it cold style.  But sometimes, we eat it in hot soup, miso soup, and it is called as "Nyumen".  In Okinakawa, it is stir fried with vegetables and it is called as "Soumin Champloo."  It is a kind of champloo foods.
However I didn't know, it is also eaten in China, Taiwan and Korea according to wikipedia.  It seems to be a common noodles in eastern Asia.
Enjoy meal!