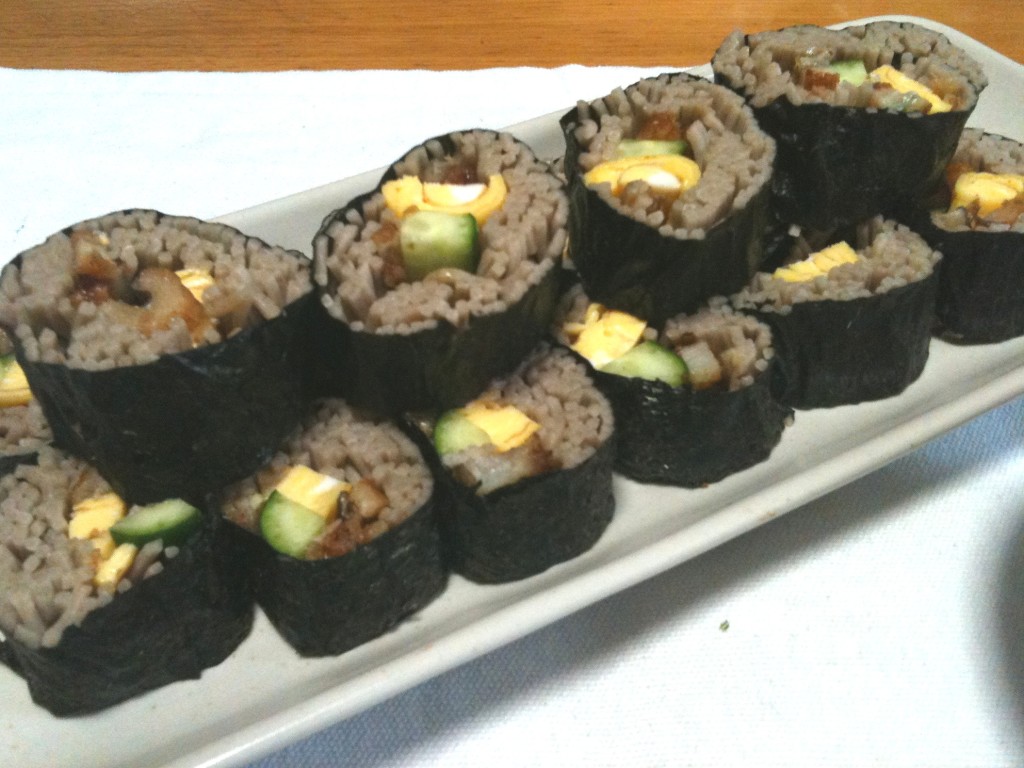 Probably "Sushi" is one of most famous Japanese foods.  And also "Soba" is well know as a Japanese noodles.
People who have been to Japan may eat both.  People may not visit to Japan also have eaten both.  But normally, people are thinking Soba and Sushi are different foods.
But we have a food which combine Soba and Sushi.  It's called as "Soba Sushi" and above photo is that.
It's a kind of sushi rolls, but it is using soba noodles instead of rice.
Ingredients (for 2 person):
100g soba (dried)
Cucumber (about 10cm)
Conger eel  (grilled)  It is called as "Anago" in Japanese.
2 eggs
1 tea spoon Sugar
a little Sea salt
1 tea spoon Sake (optional)
2 Dried seaweed (20cm square)
For mentsuyu (soup)

25ml somi mentsuyu
75ml water
How to make:
1) Combine eggs, sugar, sea salt and sake.  Heat a fry pan and pour some cooking oil.  Turn to low heat and pour egg to make egg sheet.  Then roll the sheet and repeat it again and again.  This method is as same as making Japanese omelet.  Then wrap the omelet by a mat and leave it for a while to make it better shape.  Cut it into 4 or 5 pieces.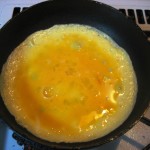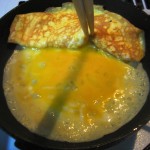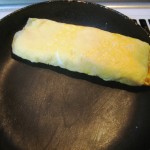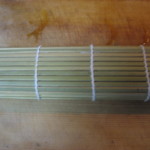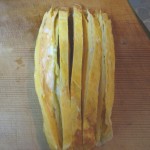 2) Cut cucumber into 6 parts.
I used grilled conger eel (Anago) which has already cut at this time.  But if you have not cut one, it is also good.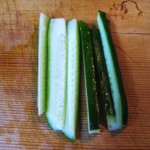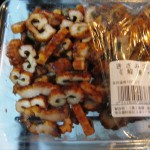 3) Boil soba according to instruction on package.  Then make it cool with cold water and warp it by cooking paper.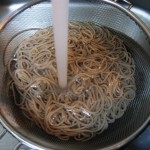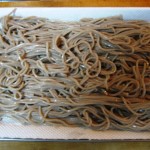 4) Place a dried seaweed on a mat to make sushi rolls.  Place soba on seaweed, then place baked egg, cucumber and conger eel.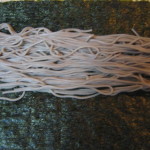 5) Roll it tighten with the mat.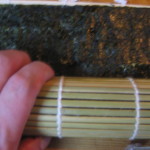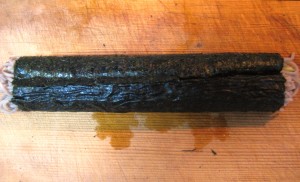 6) Cut sushi rolls about 2cm width and place on a dish, then serve with mentsuyu.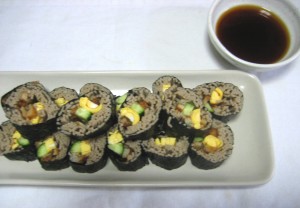 Dipping sushi piece into mentsuyu.  It is as same as zaru soba (cold soba), but we can enjoy some ingredients together, so it is very delicious.
The history of Soba Sushi is not clear, but it seems to be eaten since the end of Edo era (1603 – 1868) at least.
From experience, it is not served at either Sushi restaurants or Soba restaurants.  First time I had it was at a typical Japanese restaurant.  I was teenager at that time and surprised it because of its form and taste.  If you have chance to come to Japan, I recommend you to eat it.  Or if you can find it near Japanese restaurant, you are lucky.
Anyway, it is not difficult to make.  It would be better to try making by yourself.
I have used conger eel at this time, but some recipes are introducing boiled or fried shrimp instead.  However I used somi mentsuyu for the soup, you can use other mentsuyu products.  In that case, please make mentsuyu according to the instruction of the package.
Enjoy meal!