Cold Style Ramen (Hiyashi Chuka)
Japanese summer is hot and very humid.  In Tokyo downtown, we usually move with using train and walk, so we sweat.  This hot and humid weather starts around mid of May.  In June, we have 5th season which is rainy season called "Tsuyu" for about 1 month.  This kind of weather will ends around th emid of September.
We often want to eat something cold foods during summer time.  Noodles like Soba, Udon, Ramen and Somen are served as cold style.  Except Ramen, all noodles of cold style are available anytime.  Hiyashi Chuka is only available in summer and we can see message "Hiyashi Chuka Hajimemashita (We've started to serve Hiyashi Chuka)" at casual Chinese resturants or Soba shop.  When I saw that message, I think summer has come.
Ingredients (for 2 dishes):
200g Ramen noodles
Char sir or roast ham
50g Cucumber
2 Eggs
Shrimps
Red ginger (optional)
2 tea spoon potato starch
2 table spoon water
For sauce (about 250ml)

4.5 table spoon rice vinegar (67.5ml)
6 table spoon soy sauce (90ml)
3 table spoon sesame oil (45ml)
3 table spoon sake (45ml)
3 table spoon sugar (45ml)
How to make:
1) Making sauce:
Put all ingredients for sauce in a bowl.  Put water in a fry pan and then heat it.  Place the bowl in the fry pan and mix all ingredients well.  After cool down, make it cold in refrigerator.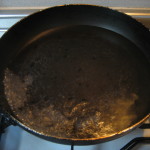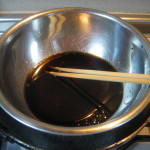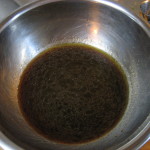 2) Slit char sir and cucumber.  Boil shrimp with sea salt.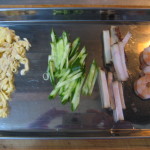 3) Mix eggs, potato starch and water.  Heat a fry pan with cooking oil and then pour egg, and make think egg sheets.  When one side is baked, flip it over.  Place egg sheet over and over and roll them.  Slit it.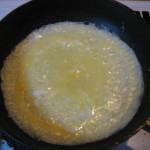 4) Boil ramen noodles.  The time is depends on noodles, but it will be boiled more than normal ramen noodles.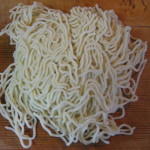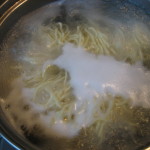 5) After boiled, make it cold with water in a sieve.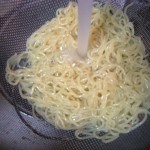 6) Place noodles on a dish and pour cold source (about 50ml for each dishes).  Then place toppings on the noodles.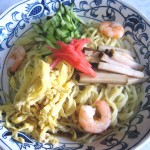 However I made 250ml sauce, 50ml will be enough for one dish.  The rest of it can be kept in refrigerator and also can be used as dressing for salad.
If you have extra slit thin egg sheet, it can be kept as frozen.  It is also used for Sushi or Somen topping.
Instead of char sir, you may be bale to use steamed or boiled chicken.
You can put any toppings other than these.  I guess tomato or avocado will be good.
Of course, ramen is originally Chinese food.  But Hiyashi Chuka is developed in Japan.  One publication mentioned about it in 1929.  So it has almost 100 years history.
The sauce is using vinegar, so the taste is a little sour and light.  That means it is easy to eat even in hot and humid summer.
Now many modern ramen shops in Japan are serving ramen and tsukemen which is eaten with dipping noodles in a soup.  Hitashi Chuka style is now serving traditional shops or restaurants.  It may be old fashion.  But I think it is still good food.
Enjoy meal!
*I have added recipe of Sesame Sauce for Cold Ramen.  Please click the link for it.