Japanese Grilled Mackerel Pike (Sanma Shio Yaki)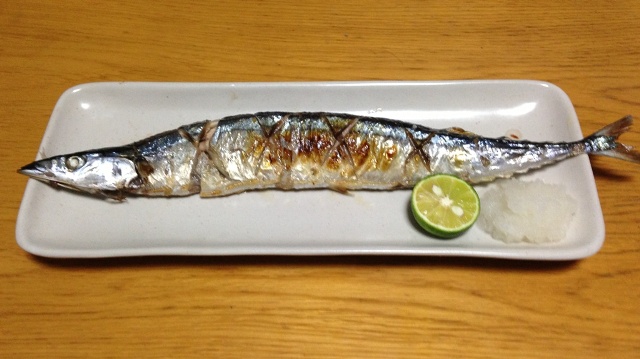 Sanma (Mackerel Pike) is a typical seasonal fish in fall in Japan.
However it is served as sashimi, grilled with sea salt (Shio Yaki) is the most common and popular as a home food.
Sanma comes from sea of Okhotsk and closes to Japan in fall.  It means they come from north.  So Hokkaido or Tohoku area are well known as places where we can enjoy very good Sanma.
We have very hot summer days here this year.  The temperature of the sea near Japan was very high, so it is said that the season of Sanma will be late.  We still have hot days in Tokyo, but it is getting cooler, especially early morning and night.  In addition to such changes of weather, if I find many Sanma in the market, I really feel fall has just come.
One day, I found good Sanma at fish store.
Is there any choice other than it?
Ingredients:
Mackerel Pike (Sanma)  – about 30cm long at this time.
Sea salt (about 8 to 10g)
Grater Japanese Radish (Daikon)
Sudachi (a kind of Japanese citrus)
How to make:
1) Wash the Sanma with water.  If it still has scales, remove them.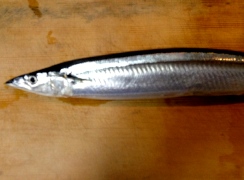 2) Add some cut on the body of Sanma and sprinkle sea salt.  Leave it for about 10 to 15min.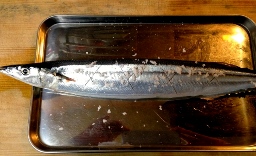 3) Heat it on fish grill for about 8 to 10 min.  Flip over on the way.  I heated it on strong heat until the skin was burn, then turn to middle heat.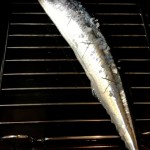 It is usually served with grater Japanese Radish and Sudachi.  When we eat it, squeeze Sudachi, pour some soy sauce and put grater radish together.
Usually, Sanma is grilled as it is.  I mean internal organs are not removed.  Other fishes are removed when it cooked, but Snama digests within about 30 min.  so it is OK even not removed.
Actually, internal organs are bitter.  Some people like that bitterness.  I think it is very good when I eat it with drinking Japanese Sake.
One more interesting thing about Sanma is it's Kanji.
Most other fishes are written as one character which is combination of two Kanji, fish and something.  But Sanma is written with three different Kanji,  "秋刀魚."  First one means fall because it is seasonal fish in fall.  Second one means sword or knife.  Last one means fish.
Why does second one mean sword?
Because of it's shape.  Sanma's shape is long and narrow, and color is silver.  So it looks like sword.  However I don't know every Kanji of all fishes, it may be only one fish which is not written as one Kanji character.
Enjoy meal!