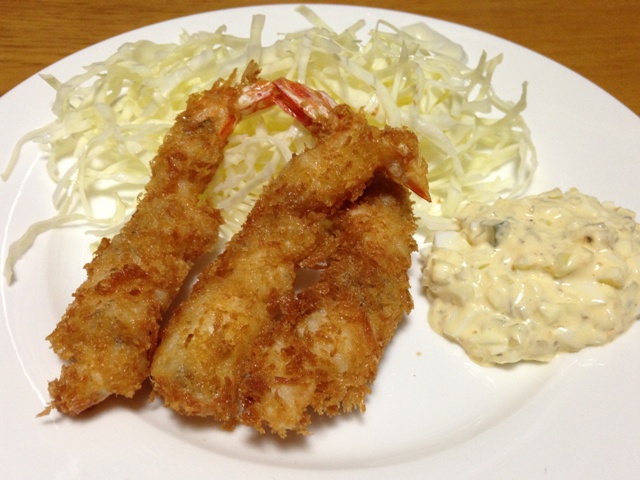 Fried Prawn (or Shrimp) is called "Ebi Fry" in Japanese and is a popular Yoshoku food.  This cooking method is almost as same as fried meat such as Tonkatsu (pork cutlet).  When meat is fried, it is called with "Katsu."  For example, Beef Katsu or Chicken Katsu.  But if seafood is fried, it is called with "fry" like "Ebi Fry."  For example, fried salmon is called "Salmon (or Sake) Fry," fried oyster is called "Kaki Fry."  It seems to be a kind of Japanese rule.
Ingredients:
Prawn
Flour
Egg
Salt
Paper
Breadcrumb (Panko)
How to cook:
1) Peel skin of prawn and remove internal organs in the back.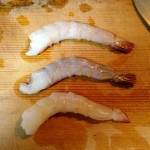 2) Add several cuts on the side where legs are.  Then press the back with a finger.  This is for cut muscle to make prawn straight when fried.  This method is also used for Tempura.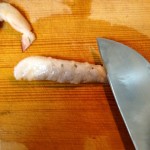 3) Put some salt and pepper and leave for a while.
4) Coat the prawn with flour, then with egg.  Coat it with breadcrumb at last.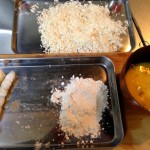 5) Fry it in a oil which is heated about 160 degree (C) until golden brown.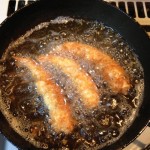 Serve it with shredded cabbage and tartar sauce.  Also lemon will be served together.
When I make tartar sauce, I don't have specific recipe.
At this time, I was using:
1 boiled egg
Pickles (Cucumber)
Caper
Onion
Mayonnaise
Salt
Pepper
I chopped from boiled egg to onion, and then mix them with Mayonnaise.  If the taste is less, add some salt and pepper.
I think many people have their own recipe of it.  I think it is the best for them.
We usually eat Ebi Fry with tartar sauce.  When we eat fried meat (Katsu), we usually use Tonkatsu sauce or worcestershire sauce.  But when we eat fried seafoods (Fry), I think using tartar sauce is usual.  I don't know why, but it could be a our custom.  At all events, I believe tartar sauce is the best one for Ebi Fry.
Enjoy meal!