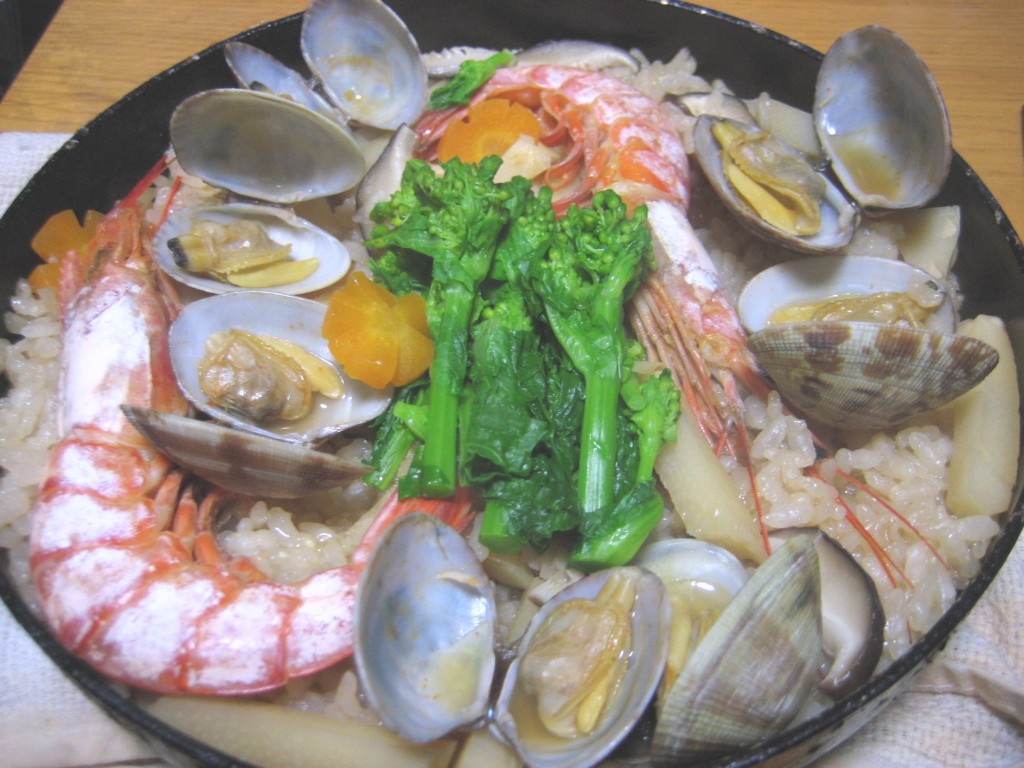 European foods are popular in Japan.  I think Italian is most popular because there are many casual Italian restaurants, therefore we are familiar with it very well.  We cook Italian such as pasta foods at home and also sometimes arrange it as Japanese style.  Of course, there are some very expensive (high class) Italian restaurants.  I think most French restaurants are expensive.  As for the Spanish, some are expensive, but some are not expensive.  So they are getting popular these years.
Because most Spanish restaurants or bars are serving paella, we think it is a typical Spanish food.  It has several similar things to Japanese foods.  It is cooking rice and we have similar food called "takikomi gohan."  "Takikomi gohan" is a steamed rice with ingredients.  But ingredients are not so many foods.  When I had paella, I think it is like takikomi gohan.  So it can be arranged Japanese style.
This dish is one of my challenge.
Ingredients (for 1 person):
180ml rice
2 prawns
10 clams
1 piece of shiitake mushroom
30g bamboo shoot (boiled)
5 pieces sliced carrot (3mm slice)
30g rape blossom
Broth

200ml water
20ml mentsuyu (somi no tsuyu)
How to make:
1) Leave clams in salt water at a concentration of 3% at least 30 min.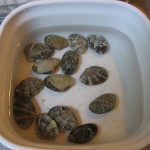 2) Cut carrots as flower shape.  Then put carrots, shiitake mushroom and bamboo shoots in a broth for a while.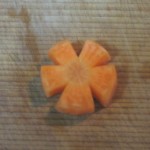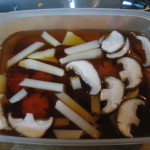 3) Wash rice and leave in sieve at least 30 min.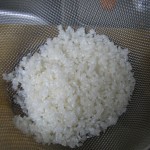 4) Boil rape blossom in water about 1 min.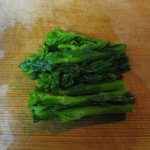 5) Put prawns in a fry pan and heat without any oil.  Then put clams in a fry pan and pour cooking sake (about 25ml).  Then place a lid.  When shells are opened, pick up prawn and clams.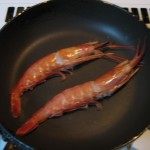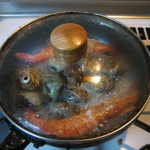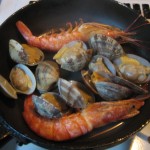 6) Put rice in a fry pan and fry it with broth of clams and prawn until translucent.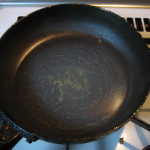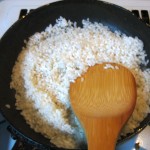 7) Add broth and vegetable together and place prawn and clams on the rice.  Then place a lid and heat on a strong heat until boiled.  After boiled, turn to middle heat and leave it about 10 min.  Then turn to small heat and leave it about 7 or 8 min.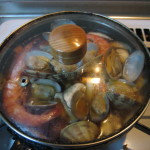 8) You cannot see water, turn off the heat and place rape blossom.  Place a lid and leave it about 5 to 10 min.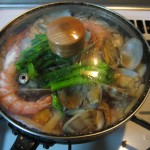 We arranged many European or American foods and they are called as "yoshoku."  It is one category of Japanese foods.  This dish could be a yoshoku food.
I used mentsuyu at this time.  It includes soy sauce and soup stock such as kelp, bonito etc.  This dish has soup from clams and prawn in addition to the broth.  So the taste is fantastic!
However it is not using any oil and saffron like regular paella, it has different and good taste.  I think this is a worth to try.
Enjoy meal!